Ak 47 is an Old school sativa dominant strain very popular in the cannabis community that has won an impressive number of awards and Cannabis Cups over the years.
THE BIRTH OF A LEGEND
The strain was created originally in '92 by the Dutch breeders of Cerebral Seeds who crossed a Thai with an Afghani. The result was the AK-47 whose name indicates its power (over 20% THC) capable of taking you down with one shot.
After closing Cerebral Seeds , Simon founded Serious Seeds in the following year and Toni would do the same with Sagarmatha. Serious Seeds finished working this great variety, starting to sell the seeds that we know today.
Fame has continued to grow until today, with more prizes in the Cannabis Cup of the years 1999, 2003 and 2011. Although the biggest prize has always been to have the highest recognition among growers around the world. But what is special about this variety? Continue reading the story of this cannabis jewel.
AK 47 continued to succeed in cannabis cups and contests at the hands of the Dutch Coffee Shops such as Gray Area or Bluebird and in the same years in the High Times Cannabis Cup .
It was already clear that the AK 47 was among the best varieties available and one of the most demanded by growers around the world. And it was clear to everyone that it would be a variety that would give much to talk about in the future. The legend of marijuana Ak 47 was born.
AK-47 produces a long-lasting cerebral high that gives feelings of euphoria that will keep you active and dynamic. But not only that, thanks to its perfectly balanced Afghan genes, this strain is able to relax the body and give peace of mind.
Error, group does not exist! Check your syntax! (ID: 3)
For this reason it is a variety also useful for those who want to treat disorders such as anxiety, depression, chronic pain and stress.
As for the smells, the woody notes of pine and sandalwood with fresh citrus nuances are easily distinguished. The same which are also found in the taste with the addition of a typically skunk finish.
Type: 65% Sativa, 35% Indica
Flowering Time: 53-63 days
Grown Indoor or Outdoor?: Indoor/Outdoor
Indoor Yield: 350-500 grams/m2
Parents: Colombian, Mexican, Thai and Afghani
Buzz: Cerebral, alert, munchies
Taste: Sweet
Smell: Woody
Latest Reviews.
AK-47 Strain Information
AK 47 is a hybrid with sativa predominance that comes from the crossing of 3 of the most powerful sativa such as Colombia, Mexico and Thailand with an indica from Afghanistan.
With these four special genetics, reaching a super plant has not been an easy task. It has been a long process of breeding, stabilization and selection work that marks out the AK 47 one of the best in the world.
Although originally it had a much greater sativa predominance, Serious Seeds offers us a version with more indica features. Especially in vegetative growth and in the short flowering period. But always retaining the charm of the variety that the world fell in love with more than 20 years.
Growing the AK47 strain?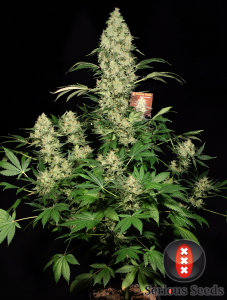 It can be grown without difficulties due to its good adaptability to different environments (indoor, outdoor, substrate, hydroponics …). And in general it can give the grower abundant harvests of 500g / m² in just 8-9 weeks of flowering.
It has a medium height and produces good yields relatively rapidly. AK-47 has a short blooming time for a Sativa. The buds it produces are impressive compact buds, with very few leaves, and they shine with resin crystals.
But it does have two aspects that should not be underestimated if you want to complete a successful grow: they do not resist mold well and can have a intense smell that may require extra attention with a carbon filter.
Indoors it is recommended not to give it more than 4-5 weeks of growth. While outdoors if you have space, we recommend that you plant it directly into the soil or in a pot of more than 100 liters. This will ensure you will get a real tree that will supply you with enough buds for months and months.
As we mentioned, the AK 47 is a fast flowering plant that will be ready in about 8-9 weeks. Its long buds form into the shape of the old school coca-cola bottles.
Trimming the finished bud on the AK is always very simple due to the small leaf to buds ratio. Indoors, it will easily reach 500 grams per m2 and more than one kilo per plant outdoors which you must plant in early spring.
But the best thing about AK 47 is its extreme taste and potency. Be it in a regular or feminized version, the AK 47 continues to be perfect for making a selection of seeds in search of a good mother to accompany us for years and years. Its more than 20 international awards endorse it.
AK 47 Marijuana
If you haven't already done so, make it your goal to grow out this mythical variety. And I'm sure that when you are smoking the finished product you will begin to understand that all the fame behind this marijuana strain is more than justified.
Although do we ask you to proceed with caution when you light a joint of this tasty variety, we all know that the devil's weapons are loaded, and we don't want to feel guilty if you accidentally hurt yourself.
[afflink url="http://bestseedbank.com/ak47″ name="Get Ak47 Seeds"]
Also Check out: Mazar Strain Review and Banana Kush Strain Review